PLEASE NOTE:
Order via email or phone – Dean@bestsectech.co.za – 082 574 1400
Please note – Some items may be out of stock. You will be notified of this when you try to order.
All items are Excluding installation. Installation will be Quoted separately.
FREE DELIVERY IN PTA
T&C's Apply
Alarm kits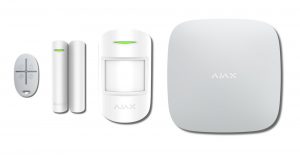 Ajax Advance Wireless Security System: Email us today for a quotation.
1 x Alarm Hub
1 x Indoor motion detector
1 x Door Protector
1 x Key fob with panic button
Fully expandable with third party products. Alarms,IP Cameras
2000m Range – up to 7 Year Battery Life – Backup Power – GSM Jamming Protection – Data Encrypted – Notify Jammed Radio Channels – Server failure warning, Detector Failure Warning.